Have you ever had feedback on your writing that you disagreed with? Wouldn't it have been useful to scientifically measure how readable your document was – and prove that your version was better (…or not)?
As it happens, there's a tool on MS Word that does exactly that. It's called 'readability statistics' and it calculates all sorts of useful data such as the average length of your words, sentences and paragraphs. What's more, it gives you a readability score out of 100.
And very few people even know about it.
How to access readability statistics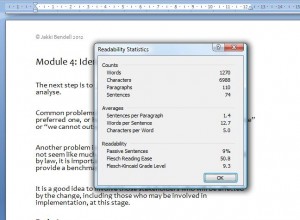 On the task bar go to Tools, Options, Spelling and Grammar. Then, under the Grammar section, tick the 'Show readability statistics' box. Click OK at the bottom of the screen. Now you're all set!
Now, find a Word document (choose a short one, or highlight a couple of paragraphs to save time). Press the F7 button on your keyboard.
Then work your way through all the grammar and spelling suggestions. You can ignore or change as you wish.
When you've finished this step, the Readability Statistics text box should appear.
What do the statistics mean?
The Counts section is self-explanatory – it simply calculates the number of words, characters, paragraphs and sentences.
The Averages section is more useful. Here you'll find your average words per sentence (for business writing, 15-20 is recommended). Also sentences per paragraph (aim for less than 4).
Finally the Readability section gives you the percentage of passive sentences. If this is hitting 40% or more, chances are you could make your writing much punchier by converting these to active sentences. Try to get it below 20%.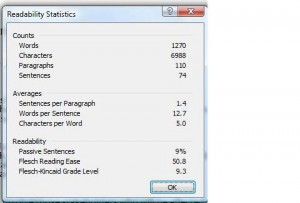 Next in this section is the Flesch Reading Ease score (out of 100). This calculates the readability of your document using a formula that includes things like sentence length, passive percentage and syllables per word (google it if you're really interested in the formula itself).
The score you are aiming for depends on your intended audience. Broadly speaking:
80-100 Anyone can read it, even a child.
60-80 Good range for most business letters, emails, tabloids, websites.
40-60 May be OK for harder business documents such as reports and proposals.
0-40 Highly technical or academic. Very difficult for the average lay person to read.
Finally the Flesch-Kincaid Grade Level indicates how many years of education you would need to read the document, based on the US grade system (again, you can google the formula). So a Flesch-Kincaid grade level of 8 would equate to 8th grade, or someone with a reading age of 12-14.
Remember that most people working in a busy office environment won't welcome a business document pitched at the upper end of their education level. And if you're writing for the general public, note that the UK average reading age is less than nine years old.
On the other hand, your CEO may feel patronized by a report that assumes a reading age of five…
Like all Word tools, readability statistics are not foolproof. Don't forget to use common sense.
And I'm not suggesting you stick to the recommended ranges for poetry or literary fiction. As Robert Gunning began his book The Technique of Clear Writing: "Writing is an art. But when it is writing to inform it comes close to being a science".
How readable am I?
This article above has a Flesch Reading Ease score of 58.2 (needs some work to get it over 60) and Flesch-Kincaid grade level of 8.5 (average reading age of about 13).
The passive percentage is 0% and the average sentence length is 13.5 (lower than the recommended scale for business writing, but OK for web copy).
Jakki
PS Find out if I can help you or your organisation improve written communication skills through private one-to-one coaching or one of my writing courses.