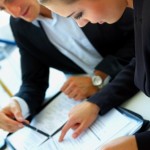 This business case training course takes you through the whole process of developing a case for investment. From defining the opportunity to creating an implementation plan, this intensive, practical programme will help managers to identify and document their recommendations in a way that informs and inspires the audience.
Duration: 1 day
Max number of delegates: 15
"Writing business cases is something I do a lot. So it's really useful to me to now have confidence in my structure."
Learning Objectives
On completion of this workshop, you will be able to:
Develop a business case following a rigorous step-by-step approach
Present complex information in a logical structure
Prepare an executive summary
Use effective and appropriate language to engage, inform and persuade the audience
Draft, edit and proofread the document effectively
Incorporate basic statistics, financial data and visuals to support the report
Understand and learn from feedback
"I have learnt some really useful tips, which I will be using on a daily basis. Jakki was great in delivering the training. Good knowledge and delivery style."
Business Case Modules
What is a business case?: definition, purpose and principles
Understanding stakeholders: what you need to find out about your audience
Developing the business case: a seven-step process from defining the opportunity to developing an implementation plan
Structuring your business case: business case elements and structure options
Writing clearly and persuasively: principles of effective business writing, including style, language and tone
Drafting, editing and proofreading: professional techniques and tools for writing quickly and accurately
Using illustrations: tips on incorporating graphs, tables and diagrams, and using presentation slides
Learning from feedback: what it means and how to apply it
To book the business case training course or to find out more, please
email me
or call me on
+44 (0)7588 63 1125
.